New York, USA (April 29, 2016) FOR IMMEDIATE RELEASE:
We love Brownstoner! For more than 35 years, our team of experts at Aladdin Plumbing Corp. have proudly provided business and homeowners in Brooklyn and surrounding areas exceptional customer care and unsurpassed plumbing support. We love what we do! Because every day we get to connect with clients that we have been working with for years, as well as create new relationships with clients we have not met yet. Being a family owned and operated organization means that the members of our team live in the communities we serve, and they work hard to strengthen our well-deserved reputation for honesty and integrity.  Visit Aladdin Plumbing on Brownstoner.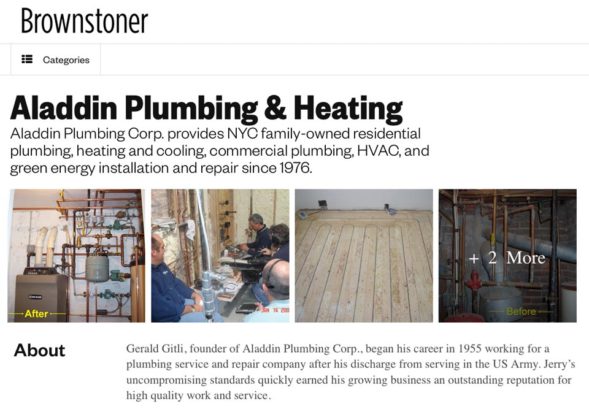 Renovation Plumbing
Both residential and commercial plumbing projects require skill and experience. Renovation plumbing projects require an exceptional level of training due to some of the challenges caused by the significant changes in plumbing standards and materials over the years. While all renovation plumbing projects are complex, those in the beautiful and historic brownstones of Brooklyn are especially complicated. The plumbing systems are decades old, antiquated, and do not meet today's plumbing standards.
At Aladdin Plumbing Corp., our team has years of experience working on a variety of renovation plumbing projects. In fact, we were proudly featured on This Old House as the This Old House plumbing contractor for the show's first ever episode in New York. Our team expertly provided renovation plumbing support for a 1904 brownstone renovation and delivered a superior and efficient plumbing system to the homeowners.
Emergency Plumbing Services
When you have an emergency plumbing situation in your home or business, the number one priority is to get the situation assessed and repaired as quickly as possible. After all, you are responsible for a million things that are far more important than dealing with an emergency plumbing problem. That is where Aladdin Plumbing Corp. comes in. We want to shoulder that stress and take care of your emergency plumbing situation quickly. Our team of highly skilled professionals can expertly assess the cause of the emergency plumbing situation, and provide the repair that will get your plumbing system working again.
Make sure to visit us on Brownstoner to see before and after photos of our renovation plumbing jobs. Contact Aladdin Plumbing Corp. with all of your renovation plumbing and emergency plumbing needs.
About Brownstoner
Launched in 2004, Brownstoner began by chronicling Brooklyn's rapid evolution through the lens of real estate and renovation. As Brooklyn transitioned from "outer borough" to primary destination, Brownstoner grew from a pioneering blog to a respected digital publication. Today, it is the Brooklyn media brand that people trust to help them find or sell a home, make a home better, and learn about the past, present and future of Brooklyn.
About Aladdin Plumbing Corp.
Aladdin Plumbing Corp. offers its customers fast, courteous and reliable service. Get expert residential plumbing, heating and cooling, commercial plumbing, HVAC, and green energy installation and repair for your brownstone residence or industrial building. We are known throughout the industry for our quality work and meticulous attention to detail.
Aladdin Plumbing Corp.
379 5th Ave. Brooklyn NY 11215 | Phone: (718) 783-4621 | Fax: (718) 636-8427
www.aladdinplumbingcorp.com