Aladdin Plumbing and Gitli Family History
Gerald "Jerry" Gitli, founder of Aladdin Plumbing Corp., began his career in 1955 working for a plumbing service and repair company after his discharge from serving in the US Army. Jerry's uncompromising standards quickly earned his growing business an outstanding reputation for high quality work and service.
Your Wish Of Quality is Granted!
Jerry enjoyed his work in the plumbing and heating industry and in 1968, earned his Master Plumbers license.   Following his tradition of service, Jerry went on to work for the City of New York. Eventually, Jerry's entrepreneurial spirit brought him to the decision to found his own company. He was then free to expand the breadth of his plumbing and heating services to the population of New York City.  In 1976 (the American Centennial) he started Aladdin Plumbing Corp.
Early on Jerry found success and the business grew.  Over time Jerry got to know Brooklyn brownstone building so well, he was able to tell the homeowner what was wrong with their plumbing by just listening.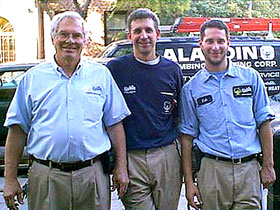 Generations of Experience
Jerry was joined in 1981 by his eldest son Randy who, by the time he became part of Aladdin, had already gained extensive knowledge of plumbing and heating through his father. Working alongside Jerry, in addition to taking mechanical courses, Randy quickly excelled in the Trade and received his Master Plumbers license in 1991. He has since become an expert in the field of steam, hot water and radiant heating methods, making Randy a vital part of our reputation for skill, knowledge and hard work.
The youngest Gitli, Erik, joined his father and brother part-time at Aladdin in 1995 while studying at Hofstra University. Erik graduated from Hofstra with a degree in Business and began working full-time in 1997 where his business skills were quickly put to use. By managing and streamlining operations, Erik provided the framework for a growing staff of plumbers. Erik received his Master Plumbers License in February of 2004, better enabling him to advise customers regarding health and safety issues, while broadening his already extensive knowledge of NYC plumbing code. Today Erik continues to provide the excellent customer service and quality workmanship taught to him by his father and older brother.
Now the next generation is honoring the family legacy by joining the trades!
Aladdin Plumbing Corp. is proud to offer its customers over 45 years of quality service and hands-on experience. Together, Jerry, Randy and Erik Gitli continue their success by bringing their family values, dedication and skills to you. Contact Aladdin for your next Brooklyn, Queens, Manhattan or Nassau County plumbing, heating & cooling needs.