Interested in using antique bath fixtures for your next remodel? If you are building or renovating your home, then the question of designing the bathroom has probably come up. You may be wondering about the size, style, and type of bathroom you will ultimately have. These are all important decisions in your home project. The bathroom is one of the more important rooms in your home and the bath fixtures can add a real touch of class to the room. You can redesign an entire bathroom from something plain to classy with the right fixtures. You can set the tone for the entire room with the right pieces. If you are leaning towards a vintage style bathroom, then antique bath fixtures will provide the perfect touch to your new bathroom.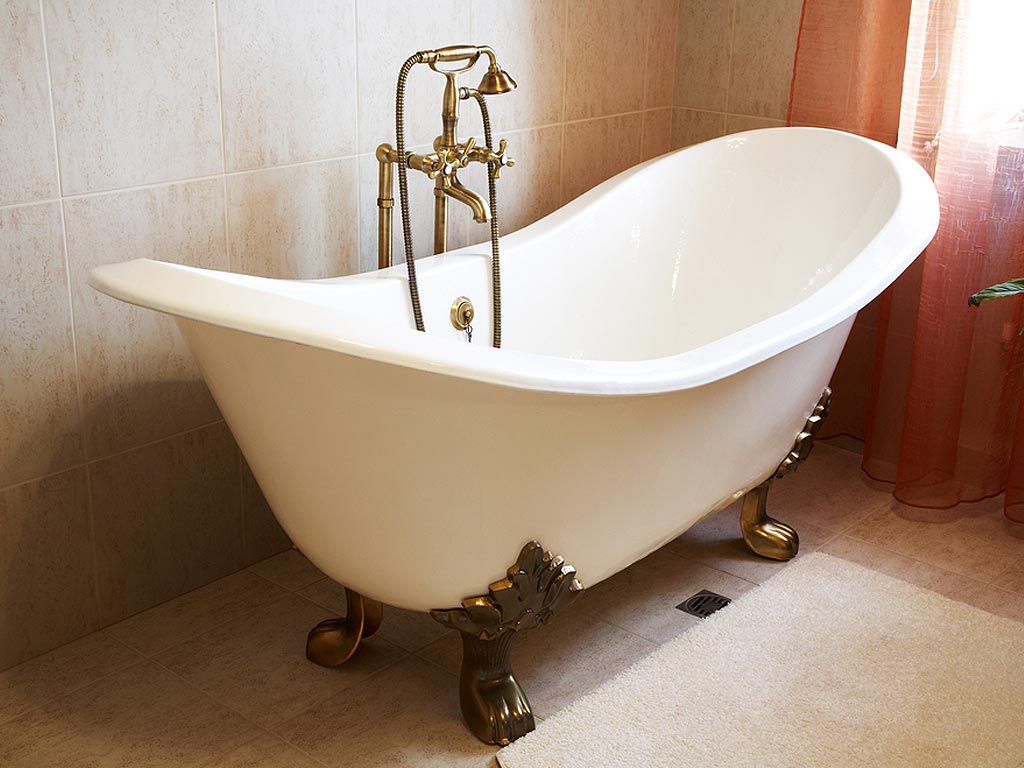 What are antique bath fixtures?
Antique bathroom pieces usually predate the 1960's. Many of the fashionable looks are a revival of the late 1800's. Whether you like a claw style tub, ornate porcelain faucets, or the pedestal style sink with Thames Vessel sink faucet, these pieces will bring the ambiance of vintage to your bathroom.
How long do antique bath fixtures last?
If you decide to go with antique bath fixtures, you will have a treasure that lasts for many years. Many of the antique pieces are made with quality materials such as brass, nickel, porcelain, and cast iron. The challenge is finding a reputable plumbing contractor to ensure the antique fixtures are installed professionally. In fact, the Washingtonian had an article "Vintage Touch: Vintage Bathroom Fixtures". In it, the writer states that with proper installation, antique bath fixtures can last up to 50 years.
How to clean antique bath fixtures
Keeping your bathroom spic and span will make your antique bathroom fixtures shine. It is also essential to maintain a clean bathroom for sanitary reasons. However, you want to make sure to use the right cleaning solutions on your antique items so that they won't become damaged. According to Better Homes & Gardens "How to Clean Bathroom Fixtures", you can clean porcelain and ceramic tubs and sinks with mild cleansers. If you don't like using harsh chemicals, you can make your own using vinegar and water (1:1 ratio) or a baking soda paste. For faucet handles and showerheads, vinegar is also an excellent solution that helps remove hard water buildup.
Installation of antique bath fixtures
Once you decide to make a move and design your new bathroom in a vintage look, it's time to consider the installation. What should you look for in a contractor for this type of job? You don't want to select just anyone. Here are three critical things to look for when searching for your plumbing contractor:
Secure a contractor who has specific experience with antique fixtures. This is relevant because they are going to be different to install than your typical modern-day ones.
Find a plumbing contractor that has high ratings and stellar reviews. Don't take your chances with someone who isn't top notch.
Working with a company that has a long history of excellence will give you peace of mind. Businesses that have been around for decades have a reputation or they wouldn't stay in business for so long.
Are you thinking about remodeling your bathroom or are you in the process of building a new home? Are you considering antique bath fixtures? If so, then we'd love to connect with you. At Aladdin Plumbing we are dedicated to providing you with superior work. We have a long history of excellence in plumbing and helping homeowners restore their homes. Our team of committed professionals will work with you each step of the way to ensure the job is done just the way you envision. Contact Aladdin Plumbing today for an estimate.